One of those involved in tracking down the names said it brought them "great sadness".



The original memorial stone in Mount Jerome.
Image: Derek Leinster

ANOTHER 58 CHILDREN from the Bethany Home mother-and-baby home have been identified as being buried in unmarked graves in a Dublin cemetery.

Those who located them say the children were all from the Bethany Home, a home for unmarried mothers that was run by an evangelical Protestant group and located on Dublin's Orwell Road in Rathgar.

They were discovered by volunteers who matched death records with burial records at Mount Jerome.
The burial records for some of the children state that they died of conditions such as marasmus (malnutrition) and heart failure.

One of the records is for a three-week-old boy, William Armstrong, a "son of [a] servant" who died of "marasmus, heart failure".

Source: Bethany Home Survivors Group

Source: Bethany Home Survivors Group
These are not the first children from the Bethany Home who have been identified as being buried in the cemetery.

In fact, this brings to over 270 the number of Bethany Home children discovered to have been buried in paupers' graves at Mount Jerome in Dublin's Harold's Cross. It is understood that children from other mother-and-baby homes are also buried in that cemetery.

Bethany Homes Survivors Group is to put the names of the children on a new memorial at Mount Jerome cemetery on 29 June this year. It will be an addition to the first memorial which was raised in 2014. Both have been funded by the State.

In 2014, a document was released which showed that some children at the home died of conditions such as marasmus (malnutrition); convulsions; 'delicacy'; meningitis; German measles; syphilis; 'general debility'; and heart failure.

These details were researched from Mount Jerome Cemetery records in May and September 2010 by Niall Meehan, head of the Journalism and Media Faculty at Griffith College, Dublin.

Meehan and Bethany Home survivor Derek Leinster said at the time that relatives of the children may not be aware that a member of their family is buried in Mount Jerome Cemetery.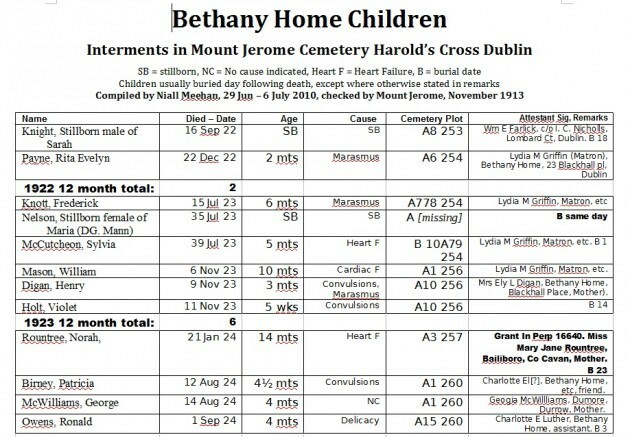 Source: Niall Meehan
(To read the full list of names, click here.)

Leinster told TheJournal.ie that while the graves are unmarked, the details of those buried in the cemetery are kept by Mount Jerome. These are then matched with death records pored over by the researchers.

"The new names we have, we have now got plot numbers of where they are buried," explained Leinster. "We have a plot number and a site in Mount Jerome."

He said that the feelings around the latest identifications are twofold:
It's sadness, great sadness but it's also it gives us, in a deep, funny way, a sense of joy because we know these children were dumped because they were considered life lower than a snake. We are now making the people and making the society that allowed this to happen to face it as if they never did before.

"222 Bethany children were denied so much in their short lives and even in death the right to their name on a headstone," said Derek Leinster at the launch of the first memorial stone in 2014.

He said at the time that the children were placed in unmarked ground, until being rediscovered by the Bethany Home Survivors Group in 2010.

Leinster said that "nobody wanted to see [the children] so I wanted to make sure the world sees them".
"Just because they were born out of wedlock or just because they died because they didn't get the care that a human being would give a human being, it gives us great pleasure that … we're making society recognise and accept."

However, Leinster pointed out that Bethany Home survivors still haven't had an apology or redress from the State.

"Why should thousands of people have had money and [an] apology from the State and yet after 20 years we still haven't had that – why should that be the case?" he asked.

"For people like me, we grew up in shame – our younger part of our lives was all to do with shame. We were illegitimate and shamed going to school," he said this week, adding that when he was seven-and-a-half months old, his head was "covered in pus, scabs and blood".

The Bethany Home Survivors Group has called on the Irish government and the Commission to Inquire into Child Abuse to include Bethany Home in the State redress scheme. In 2011, the then-Education Minister Ruairí Quinn announced that Bethany Home would not be included in the McAleese inquiry into Magdalene Laundries.

However, the home is being investigated by the Mother and Baby Homes Commission of Investigation.
In its second interim report, this commission said that there is a "strong case for inclusion" of the Bethany Home within the Residential Institutions Redress Scheme. It said that it "had not seen any evidence that the exclusion of Bethany Home constituted discrimination on religious grounds".
http://www.thejournal.ie/graves-bethany-home-mount-jerome-3777299-J...
more children identified in unmarked graves in Dublin cemetery